The Team

Colin Robbins – Organiser
Colin's love of motorcycles began from an early age. He raced motocross during the 70's on his beloved Bultaco Pursang, which he still owns.
From B-Grade motocross, Colin turned his hand to enduro riding, where he honed his skills on the farm and was promoted to the Experts class after his first season.
When Colin's four sons inherited their dad's love of motocross racing, he turned his hand to developing their riding skills and organising events.
Colin directed the Blue Light Ride for six years and organised State Enduro Championship events, and later ran a National Round Cross Country of the Australian Off Road Championship.
He also raced in Veteran's motocross and Cross Country in Calgary, Canada and still rides on multiday trail rides.
Promoting the Enduro-x has been one of Colin's long term ambitions, specifically to bring the racing to where the people are.
Having Dave as a business partner and the enthusiasm and experience he brings into the event ensures the tracks are what the riders expect.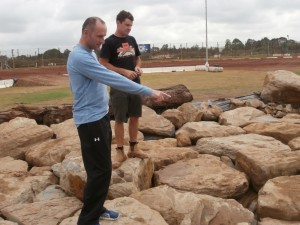 Dave Robbins – Organiser
Dave began riding at just four years of age and progressed to junior motocross shortly after. At 16 he moved to Victorian Cross Country racing, where he quickly advanced to Expert class and shortly after Pro Class.
Dave rode in six Australian 4-Day Enduro events, gaining five gold and one silver medal. He rode in the International Six Day Enduro in New Zealand, gaining a silver medal and narrowly missing gold by seconds.
Dave represented the Victorian State teams for five consecutive years in the National A4DE.
Dave rode in the inaugural Enduro-x at Jeff's Shed and got the taste of the crowds' excitement for this type of event.
Dave has ridden and finished high up the order in the Finke Desert Race, Hattah Desert Race, 24 hour Trial in S A, Wildwood Extreme.
Dave's competitive days are now behind him, although the spirit is still there. Dave has used his skills and experience to design the Enduro-x courses from scratch.
His passion for the sport to progress into an exciting spectator sport is his driving force.